This great principle stated by Eli Siegel, "All beauty is a making one of opposites, and the making one of opposites is what we are going after in ourselves," is the key to understanding the function of art or aesthetics in the cultures of the world—and in all the social sciences. And this includes paleoanthropology, or prehistory, as we'll see.
YOUR MOTIVES, FOUR ETHNOGRAPHIES, & MORE
May 18 Art, the Opposites, & the Fang of Gabon (the Congo)
See James W. Fernandez of Princeton on a union of conflict and repose [http://www.perey-anthropology.net/Oksapmin_AE.htm].
June 1 Cancelled for construction and rescheduled
June 15 Cancelled for construction and rescheduled
June 29 Art Strengthens—or, the Ethnography of the Inuit (Eskimo)
See Franz Boas' early classic, The Central Eskimo.
July 13 Did Art Make the Crucial Difference for Ice Age Survival?
For diverse points of view see https://genographic.nationalgeographic.com/neanderthals-article/
July 27 Strange & Familiar—a Missionary, Junod, Looks at S. Africans
For a swift ethnographic sketch see Irving Goldman, http://psycnet.apa.org/books/13891/011
Aug. 3 Custom & Honest Impulse, or Robert Lowie & the Crow Nation
Aug. 10 The Place of Aesthetics: Papers by Students in This Class
Aug. 14 (Sunday) What Art Says of the Primal & Subtle In Ourselves
Joint class with The Visual Arts and the Opposites class at the Metropolitan Museum of Art, 11 AM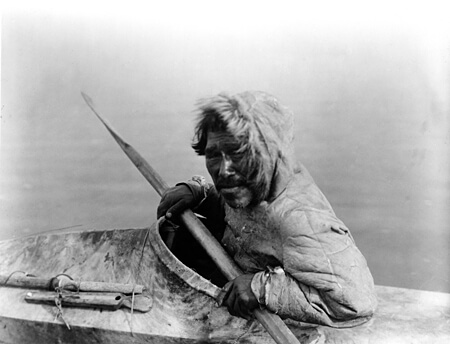 INUIT MAN Photograph by Edward S. Curtis